A double-whammy of injuries and underperformance has hampered the Angels in their bid to make the playoffs before Shohei Ohtani hits free agency, but one bright spot has been the play of Mickey Moniak. The former number one pick of the 2016 draft looked like a bust when the Phillies included him as one of two outfielders in last year's deadline acquisition of Noah Syndergaard, and his late-season cup of coffee in Anaheim didn't exactly dispel that notion. But since his promotion in mid-May, he's been one of the majors' most productive hitters, producing a 170 wRC+ in 165 plate appearances.
Moniak sent the struggling Yankees reeling with a big night on Tuesday in Anaheim. In the first inning, he clubbed a two-run homer off Domingo Germán, and while he struck out in the third with the bases loaded, he followed Ohtani's RBI triple with an RBI single in the fifth to cap the scoring at 5–1. He also added a single of Albert Abreu in the eighth, giving him three three-hit games in the first five of the second half and extending his hitting streak to 10 games.

Including a 1-for-5 night in the Angels' 7–3 win on Wednesday, the lefty-swinging Moniak is hitting a sizzling .331/.364/.631 with 11 homers. Among batters with 150 PA (just about half of number needed to qualify for the batting title), his slugging percentage ranks third in the majors behind only Ohtani and Aaron Judge, and his batting average is fourth behind Luis Arraez, Corey Seager, and Ronald Acuña Jr., with his wRC+ also ranking fourth at that cutoff:
That's good company! The way Moniak is crashing that party is rather remarkable, and almost certainly unsustainable. It's as though he's starring in an extended run of Small Sample Theater, where his numbers are past the point of stabilization but somehow defying the gravity of regression. Catch the show before it leaves town.
It will be absolutely unforgivable if the Angels waste the Ohtani/Moniak years
— Chelsea Janes (@chelsea_janes) July 19, 2023

Before the numbers, some history. The Phillies drafted Moniak out of La Costa Canyon High School in Carlsbad, California. Baseball America had ranked him as the fifth-best prospect entering the draft, writing in part, "He's a hitter with feel for the barrel that evokes comparisons to Christian Yelich, a fellow SoCal prep outfield product, and solid power to the gaps." MLB Pipeline's Jim Callis liked the pick, calling Moniak a player with "one of the highest floors in the Draft," and adding, "He's a surefire up-the-middle-player in a Draft that doesn't have many of them. Moniak is going to hit. He's going to run. He's going to play a good center field."
In retrospect, the top of that particular draft has been something of a dud thus far. The Dodgers' Will Smith (chosen at no. 32) is the only first-round pick from that year who has reached double digits in bWAR (used here because Baseball Reference has comprehensive cross-linking in its database) at 13.8, with Dylan Carlson (picked 33rd by the Cardinals) second at 6.2 and Cal Quantrill (picked eighth by the Padres) third at 5.8. Even with Moniak's hot partial season, the top six picks have netted 2.7 WAR, with the Reds' Nick Senzel 1.6 WAR in the red, the Braves' Ian Anderson (3.6 WAR) in the weeds due to control issues and Tommy John surgery, the Rockies' Riley Pint and Brewers' Corey Ray each having made just one big-league appearance, and the Athletics' A.J. Puk (1.0 WAR) winding up in the bullpen after injuries.
After Moniak hit .284/.340/.409 with one homer and 10 steals in 194 PA for the Phillies' Gulf Coast League affiliate, he ranked no. 17 on Baseball America's Top 100 Prospects List in the spring of 2017, no. 19 on MLB Pipeline's list, and no. 27 on FanGraphs' list. Eric Longenhagen put a future grade of 70 on Moniak's hit tool, writing:
Scouts see Moniak's slight frame and wonder if he'll ever grow into more than 40 game power, but if he hits as well as he's expected to, it isn't going to matter. Moniak's swing is loose and effortless, his feel for moving the bat head around the zone is advanced. He's a potential plus-plus hitter who runs well enough to play center field, and his instincts for the position make him a potential above-average defender there.
After Moniak struggled at A-Level Lakewood in 2017 (.236/.284/.341, 5 HR, 11 SB, 109 K), he fell to 88th on MLB Pipeline's list and off the BA and FanGraphs lists entirely, placing just sixth on the 2018 team list of the latter. "The 2017 season was a disaster for Moniak, whose unexpected maladies at the plate (breaking-ball recognition and poor plate coverage chief among them) were exacerbated by his still immature frame wearing down as the summer drew on," wrote Eric, who downgraded the hit tool to a future 55 but still saw him in a positive light: "A 100 to 105 wRC+ hitter who offers solid center-field defense is a 50/55 type of player."
Moniak struggled with his approach as he rose to higher levels, posting OBPs just above .300 in both 2018 and '19 and treading water in the context of the Phillies' prospect list; he ranked 10th in 2019 as a 40+ FV but was back up to seventh as a 45 FV in '20 after gaining strength and homering 11 times at hitter-friendly Reading in Double-A. He tasted major league action during the pandemic-shortened 2020 season, going 3-for-14 in eight games, but the Phillies didn't see enough to give him more than a passing look the following year as they tried to fill their center field void while awaiting Odúbel Herrera's return from a domestic violence suspension. Moniak hit a disappointing .238/.299/.447 at Triple-A Lehigh Valley in 2021 and went just 3-for-33 in 21 games, mainly off the bench, in four separate stints with the big club.
Though he sank to 22nd as a 40 FV on the Phillies' 2022 prospect list, Moniak's season was a series of breaks. Working with new hitting coach Kevin Long, he made adjustments to his setup during spring training; by moving him closer to the plate, Long helped Moniak reach pitches on the outer half while straightening out his stride, which had been skewed toward left-center. "I was hoping by being on the plate that it would automatically take care of his stride direction and it did," Long told the Philadelphia Inquirer. "[I]t was probably the easiest fix that I've had in my 16 years in the big leagues… It's kind of comical."
After a strong spring, Moniak was slated to get the bulk of the center field duty as Herrera recuperated from a strained oblique until a Ryan Yarbrough pitch caused a hairline fracture in his right hand in the team's final exhibition game. He joined the Phillies in late May after a rehab stint but was sent to Lehigh after going just 4-for-25 with 11 strikeouts. He went back and forth two more times — running his career total with the Phillies to 13 — before being dealt to the Angels in the Syndergaard trade. As Ben Clemens noted, "If he clicks, Moniak will do so as a power/average threat, but I'm skeptical of that happening given his downright terrifying swing-and-miss numbers. Maybe he can figure something out, given that he's only 24, but unless something changes, he won't hit enough to put together an average offensive line." In his roundup of traded prospects, Eric summarized him as, "Former no. 1 overall pick who now looks like a fifth outfielder."
Adding injury to that insult, Moniak played just five games, homering twice, with the Angels before suffering another fracture on August 7, this time of the tip of his left middle finger while trying to bunt. After a month-long absence, he went just 8-for-46 with one walk and 20 strikeouts upon returning.
Thus Moniak entered his age-25 season with a career batting line of .151/.197/.273 (26 wRC+) with four homers and -0.6 WAR in 149 PA. The Angels, set with an outfield of Taylor Ward, Mike Trout, and Hunter Renfroe, stashed him and struggling post-hype prospect Jo Adell at Triple-A Salt Lake City. Moniak kept working to improve, implementing Angels assistant hitting coach Phil Plantier's suggestions directed at opening up his stance, keeping his head back, and reducing his tendency to swing and miss. After a solid .277/.341/.518 at hitter-friendly SLC, Monak was recalled on May 13. He spent most of his first eight weeks spotting for the underwhelming Ward and Renfroe against righties in both outfield corners. Since Trout suffered a fractured hamate, Moniak has taken over center field, hitting hit .395/.435/.558 in 46 PA, though the Angels have gone just 4–6.
Moniak's scorching season stats, which have been aided by his being shielded from lefties (he's got just 21 PA and two hits against them), contain some interconnected absurdities, most notably a gaudy 30.3% strikeout rate and a ridiculous .427 BABIP. The strikeout rate stems in part from him chasing a whopping 49.4% of pitches outside the zone. That didn't come from nowhere; he had a 44.1% chase rate in his various stints prior to this season. It's obviously a bit higher this year, higher than all but one other major league hitter with at least 150 PA, and the eighth-highest of the past decade at that cutoff:
Two things stand out. First, Moniak's swinging-strike rate is also extremely high — tops this year and 14th for the past decade at that 150 PA minimum. Second, most of the players chasing at this clip didn't even manage league-average production. Moniak and Diaz, a rookie catcher with the Astros, are the only ones with a wRC+ of 100 or better, and both are on the lower end of the PA range. Meanwhile, of the 25 players with a swinging-strike rate of 20% or higher, he's one of just four with a wRC+ of 100 or higher, joined by the 2021 versions of Javier Báez (21.7% in 547 PA but a 117 wRC+) and Luke Voit (20.2% in 241 PA, with a 112 wRC+), and this year's model of Joey Gallo (20.4% in 251 PA, with a 112 wRC+).
Even with his move closer to the plate, Moniak is more prone to chasing pitches off the inside corner than the outside corner, though most of the whiffs are coming on pitches below rather than above the zone.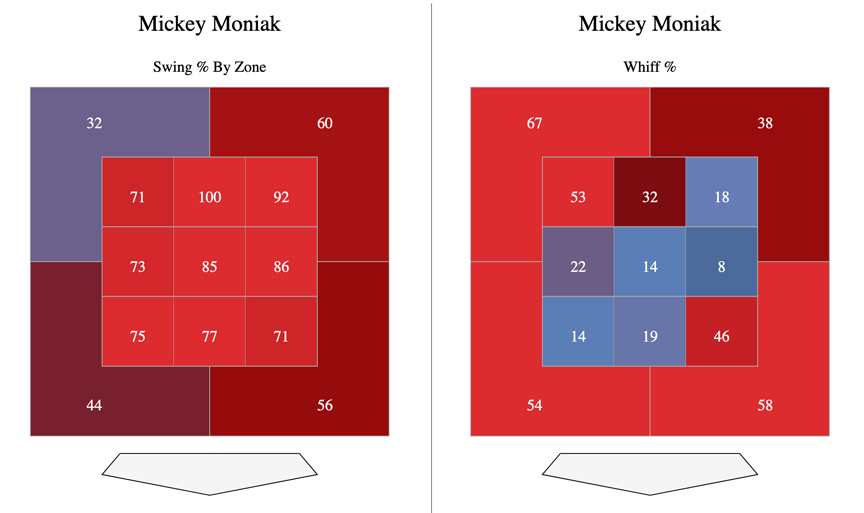 Contact with those pitches isn't serving Moniak well. In 65 PA via balls outside the strike zone entering Wednesday, he's hit .140 and slugged .211 for a .218 wOBA, with five of his eight hits via changeups; he's 1-for-22 on breaking balls and 1-for-21 on four-seamers and sinkers. His whiff rate against fastballs outside the zone is 48%, and against other pitch types it ranges from 52% to 64%. Meanwhile, he's walking just 3% of the time.
Moniak's zone contact rate of 79.1% is about six points below the major league average, but when he connects, wow: His .435 AVG, .905 SLG and .569 wOBA all lead the majors among those with at least 50 PA on pitches in the strike zone:
Moniak leads the three actual categories, with Judge tops in two of the three expected categories (Acuña Jr. leads in xBA in the zone at .386). You'd certainly expect his numbers to decline as his sample size increases, but note that he's already banked nearly as many homers as some of the players with double the PAs in the split.
Combine Moniak's dreadful numbers when swinging at pitches outside the zone with his bonkers numbers on those inside the zone, and you get a .427 BABIP; he had the Wild Card-era lead until Wednesday night, when the Twins' Julien (.432) surpassed him.
Moniak isn't hitting the ball especially hard. His 88.5 mph average exit velocity would rank in the 33rd percentile if he had enough batted ball events to qualify, and his 35.5% hard-hit rate in the 24th. That said, his 15% barrel rate would place in the 93rd percentile. You don't find those kind of pairings in the wild. He's not hard to spot on this scatter plot of the hard-hit rates of batters with barrel rates within two percentage points in either direction (13%–17%):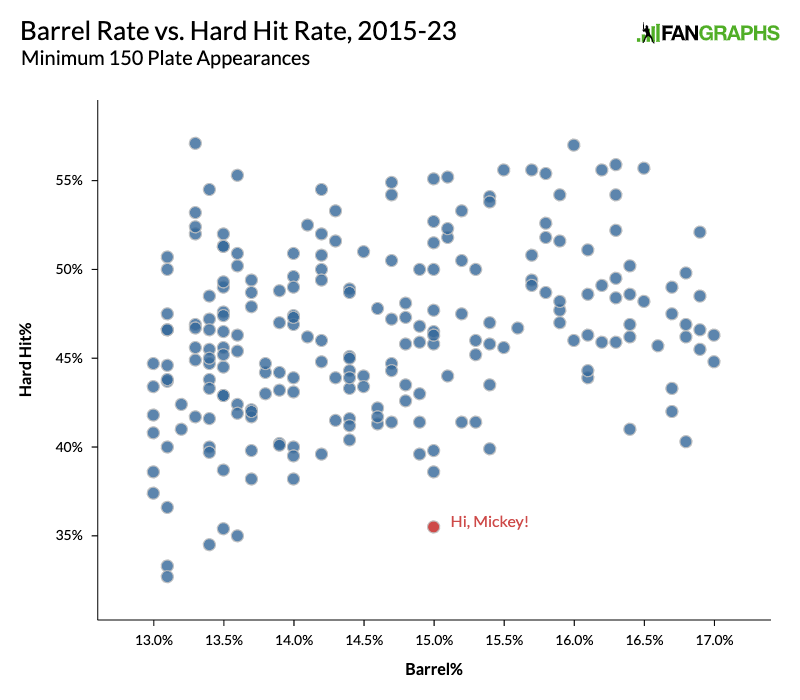 All told, taking the good with the bad, Moniak is well ahead of his .278 xBA, .539 xSLG, and .363 xwOBA (his overall wOBA is .419), but I don't think for a minute that either he or the Angels would be unhappy if he were merely to match those expected numbers over a larger sample even in a platoon role. What Moniak is doing is incredible, improbable, and, as should be quite clear from these comparisons, almost certainly unsustainable. Enjoy this tear while it lasts; he's one more reason to keep an eye on the Angels while Trout is out and Ohtani is still on the roster.
Brooklyn-based Jay Jaffe is a senior writer for FanGraphs, the author of The Cooperstown Casebook (Thomas Dunne Books, 2017) and the creator of the JAWS (Jaffe WAR Score) metric for Hall of Fame analysis. He founded the Futility Infielder website (2001), was a columnist for Baseball Prospectus (2005-2012) and a contributing writer for Sports Illustrated (2012-2018). He has been a recurring guest on MLB Network and a member of the BBWAA since 2011, and a Hall of Fame voter since 2021. Follow him on Twitter @jay_jaffe… and BlueSky @jayjaffe.bsky.social.
Fun article. I had often wondered what Philadelphia was thinking with this pick, and if anything would come of Moniak.
After reading, though, I'm left with one question: If you're an opposing pitcher, why would you throw him a strike?