Home » news » Liverpool, Arsenal legends among Barcelona, Real Madrid greats in official UEFA all-time XI

The UEFA ultimate Team of the Year has been around since the dawn of the new millennium. European competition has been largely dominated by the two La Liga giants Barcelona and Real Madrid over the past few seasons, with one of the duo winning five of the last eight Champions League trophies.
This is reflected in the UEFA all-time XI, which features as many as nine footballers who have played for either Barcelona or Real Madrid. The Blaugrana dominate the XI with six players, followed by Los Blancos with three.
Bayern Munich Philipp Lahm is the only representative from the Bundesliga, while Liverpool legend Steven Gerrard is the only Premier League player in the side. Both of them spent their entire professional careers in Europe with the same club.
Frenchman Thierry Henry and Portuguese superstar Cristiano Ronaldo are also former Premier League players, having played for Arsenal and Man United respectively. Barca defender Gerrard Pique has also played in the Champions League for Man United.
However, all three have tasted more Champions League success playing for La Liga teams. Henry won his only Champions League trophy in 2008-09 with Barcelona. Ronaldo has won two Champions Leagues with Real Madrid, adding to the triumph with Man United in 2007-08.
Pique won the trophy with Ronaldo as a teammate at United, but has since gone on to win it thrice with his boyhood club Barca.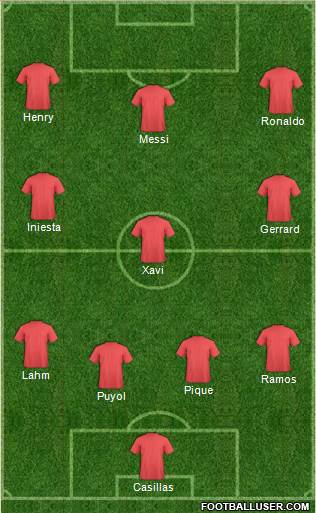 GK – Iker Casillas (Real Madrid/FC Porto)
LB – Philipp Lahm (Bayern Munich)
CB- Carlos Puyol (Barcelona)
CB- Gerrard Pique (Barcelona/Manchester United)
RB – Sergio Ramos (Real Madrid)
LM- Andres Iniesta (Barcelona)
CM- Xavi (Barcelona)
RM- Steven Gerrard (Liverpool)
LW – Thierry Henry (Arsenal/Barcelona)
ST- Lionel Messi (Barcelona)
RW – Cristiano Ronaldo (Real Madrid/Manchester United)

Your email address will not be published. Required fields are marked *





I agree to the Terms & Conditions and Privacy Policy.

© 2022 TheHardTackle.com
© 2022 TheHardTackle.com
Login to your account below




Please enter your username or email address to reset your password.